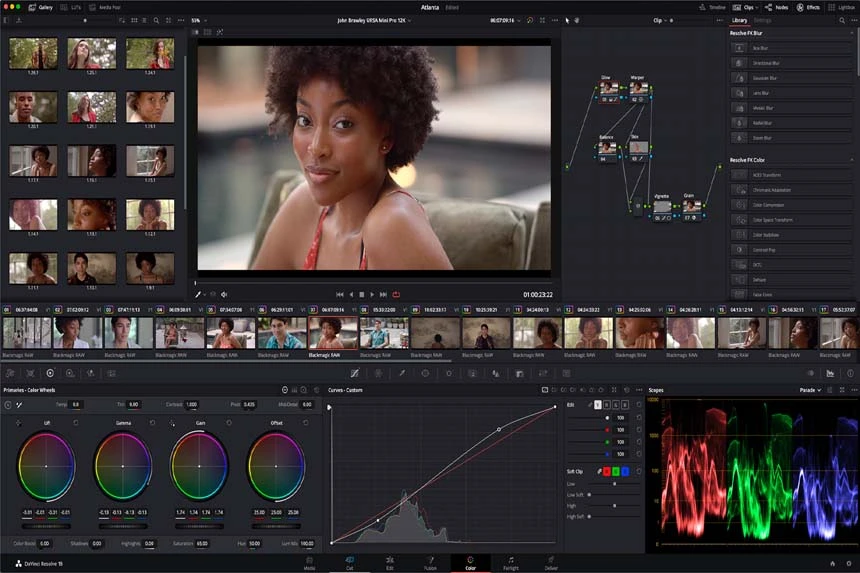 DaVinci Resolve Video Editing Software: Unleash Your Creative Potential
Are you ready to embark on a journey into the world of professional video editing? Look no further than DaVinci Resolve Video Editing Software, the industry's leading software for turning your creative ideas into stunning visual masterpieces. DaVinci Resolve is your key to unlocking your creative potential.
In this article, we will dive deep into the incredible capabilities of DaVinci Resolve Video Editing Software, exploring its powerful features and offering you expert tips to enhance your video editing skills. Whether you're a seasoned pro or a beginner, DaVinci Resolve has something for everyone. Let's dive right in and uncover the magic of this remarkable tool. From its user-friendly interface to its powerful editing tools, we've got you covered.
What is DaVinci Resolve?
DaVinci Resolve Video Editing Software, developed by Blackmagic Design, is a world-renowned video editing software used by both beginners and seasoned professionals. With its intuitive interface and an array of powerful features, it's the perfect choice for video enthusiasts, filmmakers, and content creators.
Key Features of DaVinci Resolve
1. Professional-Grade Editing
DaVinci Resolve offers a wide range of editing tools that cater to every need. Whether you're cutting, trimming, or splicing, the software provides unmatched precision and control.
2. Color Correction Excellence
One of DaVinci Resolve's standout features is its industry-leading color correction capabilities. Adjusting colors, enhancing contrast, and creating stunning visual effects has never been easier.
3. Audio Post-Production
Achieve pristine audio quality with DaVinci Resolve's audio post-production tools. From noise reduction to audio equalization, your videos will sound as good as they look.
4. Visual Effects Magic
Elevate your videos with mind-blowing visual effects. DaVinci Resolve offers an extensive library of effects, from basic transitions to advanced 3D animations.
Getting Started with DaVinci Resolve
1. Installation
To get started, Download DaVinci Resolve Video Editing Software from the official website and follow the installation instructions. It's compatible with both Windows and Mac operating systems.
2. User Interface
Upon launching DaVinci Resolve, you'll be greeted by an intuitive user interface. The workspace is divided into sections, making it easy to navigate.
3. Importing Your Footage
Import your video clips by clicking the "Import" button. DaVinci Resolve supports a wide range of video formats, ensuring compatibility with your footage.
Editing Your Videos
1. Timeline Editing
In the timeline, you can arrange your clips, add transitions, and apply effects. Simply drag and drop to create your masterpiece.
2. Color Grading
DaVinci Resolve's color grading tools are second to none. Adjust the colors, saturation, and contrast to achieve your desired look.
3. Audio Enhancement
Enhance your video's audio quality by eliminating background noise and fine-tuning the sound.
Exporting Your Video
1. Choose Your Format
DaVinci Resolve supports various video formats for export. Select the one that best suits your needs.
2. Export Settings
Customize your export settings, including resolution, frame rate, and compression options.
Frequently Asked Questions
1. Is DaVinci Resolve suitable for beginners?
Absolutely! DaVinci Resolve is designed for users of all skill levels, making it an excellent choice for beginners.
2. Can I use DaVinci Resolve on a Mac?
Yes, DaVinci Resolve is compatible with both Windows and Mac operating systems.
3. Are there tutorials available for DaVinci Resolve?
Yes, there are numerous tutorials and resources online to help you master DaVinci Resolve's features.
4. What makes DaVinci Resolve stand out from other editing software?
DaVinci Resolve's exceptional color correction and professional-grade features set it apart from the competition.
5. Can I use DaVinci Resolve for commercial video production?
Absolutely! Many professionals use DaVinci Resolve for commercial video editing due to its robust capabilities.
Conclusion
DaVinci Resolve Video Editing Software empowers you to bring your creative visions to life. Its user-friendly interface, powerful editing tools, and professional-grade features make it a top choice for video enthusiasts worldwide. Start your editing journey with DaVinci Resolve today and watch your videos come to life.