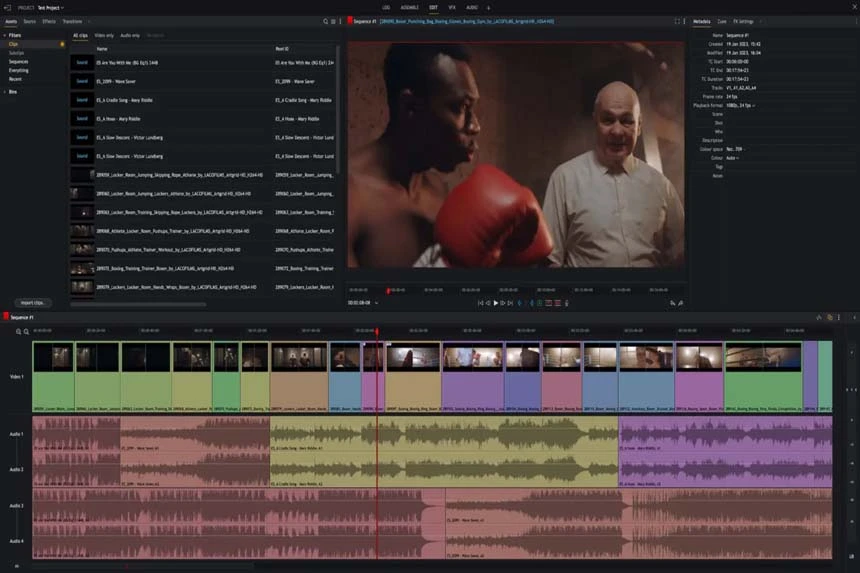 Lightworks Video Editing Software: Your Path to the Powerful Video Editing
Are you ready to embark on a journey into the world of professional video editing? Lightworks Video Editing Software is your key to unlocking the full spectrum of your creative potential and go-to tool for crafting professional-grade videos.
In this article, we will delve into the extraordinary features and unveil the magic of Lightworks, and provide expert tips to supercharge your video editing skills. Whether you're an experienced editor or just starting out, Lightworks offers the tools you need to turn your video visions into breathtaking reality.
Lightworks Video Editing Software is a versatile tool used by both beginners and seasoned professionals to craft visually stunning stories. Now, let's embark on a creative journey with Lightworks and turn your video editing dreams into dazzling masterpieces!
What is Lightworks?
Lightworks Video Editing Software is a professional-grade video editing software developed by EditShare. Renowned for its use in major Hollywood productions, it offers a robust set of features while maintaining an accessible interface. Whether you're a novice filmmaker or an experienced editor, Lightworks has something to offer for everyone.
Key Features of Lightworks
1. Intuitive User Interface
Lightworks boasts a user-friendly interface that caters to users of all skill levels. The intuitive layout makes it easy to navigate, ensuring you can get started right away.
2. Precision Editing Tools
Edit your videos with precision using Lightworks' advanced editing tools. Trim, cut, and arrange clips effortlessly on the intuitive timeline.
3. Professional-Grade Color Correction
Achieve the perfect visual tone for your videos with Lightworks' color correction tools. Adjust brightness, contrast, and saturation with ease.
4. Multicam Editing
Take your video editing to the next level with multicam editing. Sync and edit footage from multiple cameras seamlessly.
Getting Started with Lightworks
1. Installation
Begin your journey by Downloading Lightworks Video Editing Software from the official website. It's available for Windows, macOS, and Linux, ensuring compatibility with your system.
2. User Interface
Upon launching Lightworks, you'll be greeted by a clean and straightforward interface. The workspace is divided logically, making it easy to locate essential tools.
3. Importing Media
Import your video clips by clicking the "Import" button. Lightworks supports various video formats, ensuring compatibility with your footage.
Editing Your Videos
1. Timeline Editing
Edit your videos on the timeline with ease. Arrange clips, add transitions, and create your masterpiece with Lightworks' intuitive editing capabilities.
2. Color Correction and Grading
Enhance your videos with professional-grade color correction. Lightworks provides precise controls to achieve the desired visual style.
3. Audio Post-Production
Ensure your videos sound as good as they look. Lightworks offers audio editing tools for noise reduction, equalization, and more.
Exporting Your Masterpiece
1. Choose Export Settings
Select your preferred export settings, including resolution, format, and frame rate. Lightworks provides customizable options to meet your project's requirements.
2. Export Your Video
With a few clicks, your masterpiece is ready to be shared with the world. Lightworks ensures your video is of the highest quality.
Frequently Asked Questions
1. Is Lightworks suitable for beginners?
Absolutely! Lightworks offers an intuitive interface that is accessible to beginners while providing advanced features for professionals.
2. Can I use Lightworks on a Mac?
Yes, Lightworks is compatible with Windows, macOS, and Linux operating systems.
3. Are there tutorials available for Lightworks?
Yes, there are numerous tutorials and resources online to help you master Lightworks' features.
4. What sets Lightworks apart from other editing software?
Lightworks' reputation in Hollywood and its combination of professional-grade features with user-friendly design set it apart in the world of video editing.
5. Can I use Lightworks for commercial video production?
Certainly! Lightworks is trusted by professionals for its powerful editing capabilities in commercial video production.
Conclusion
Lightworks Video Editing Software empowers you to tell your stories with a cinematic touch. Its user-friendly interface, precise editing tools, and professional-grade features make it a top choice for video enthusiasts and professionals worldwide. Start your creative journey with Lightworks today and elevate your video editing game.